Artificial intelligence (AI) is an expanding field of study with several practical applications. All types of businesses, from startups to conglomerates, are using applications of AI in pharma to become more competitive in the modern online marketplace.
In the healthcare and pharmaceutical industries, AI is rising to prominence in the same way it has in retail, e-commerce, and manufacturing. Companies in the pharmaceutical industry are using cutting-edge artificial intelligence to come up with novel solutions to a number of pressing problems.
Yes. The pharmaceutical industry has seen a dramatic paradigm change because of AI-powered applications that utilize machine learning, deep learning, predictive analytics, and big data.
The use of AI in the pharmaceutical sector might boost creativity, efficiency, and effectiveness. Furthermore, AI in the pharmaceutical industry provides value to businesses by enabling the development of cutting-edge new business models.
The applications of AI in pharma are being used in almost every facet of the pharmaceutical industry. Artificial intelligence (AI) has an effect on all stages of the drug industry, from research and development through production, distribution, and sales.
So, AI in pharma and healthcare guarantees low-cost operations, high-efficiency businesses, and smooth medication approval processes. The usefulness of AI in the pharmaceutical business is also explored further.
Here are the Applications of AI In Pharma Industry;
1. Next-Level Diagnosis
Data about patients' health care may be collected, processed, and analyzed by physicians with the use of cutting-edge machine learning technologies and applications of AI in pharma industry. Deep learning and machine learning are being used by medical practitioners all around the world in order to safely store patient information in centralized storage systems or the cloud. It is known as EMR, which stands for electronic medical records (EMR).
When doctors require more information on how a certain genetic characteristic affects a patient's health or how medicine addresses that condition, they may look up the patient's medical history in these data. Machine learning systems are able to make use of the information included in electronic medical records (EMRs) in order to provide real-time estimations for the purposes of diagnosis and to recommend the proper therapy for the patient.
Because ML technologies are capable of processing and interpreting enormous volumes of data in a short period of time, they may assist in accelerating the diagnosis process, which can help save the lives of millions of people.
2. Disease Control
Artificial intelligence may be used by pharmaceutical companies in the research and development of new drugs to treat Parkinson's disease, Alzheimer's disease, and other very uncommon illnesses. According to Global Genes, it is a well-established reality that roughly 95% of rare illnesses do not have access to additional medications that may treat and cure them more quickly.
Nevertheless, we owe a debt of gratitude to the pioneering skills of AI and ML. The use of applications of AI in the pharma sector will result in a dramatic change to this situation, as well as the development of the most cutting-edge models for diagnosing dangerous illnesses at an early stage and improved results for patients.
3. Design and Process of Drug Discovery
The pharmaceutical industry is increasingly turning to artificial intelligence (AI) to assist in the formulation and production of new medications. Applications of AI in pharma play a significant part in the process of identifying and validating pharmacological targets, from the production of small molecules to the discovery of new biological targets.
It is commonly utilized for the development of multi-target drugs as well as the identification of biomarkers in a method that is both efficient and highly accurate. When AI is used during drug testing, it cuts down on the amount of time needed to produce new drugs, which is a significant advantage for the pharmaceutical sector.
Drug makers will also profit from the usage of artificial intelligence in the pharmaceutical industry since it will help them complete clinical studies more quickly and get their medicines to market more quickly. It results in a development procedure that is less expensive and takes less time, and it also makes novel treatments accessible so that they may improve patient care without causing negative effects.
Using data such as longitudinal EMR records (Electronic Medical Records) and other omic data, for instance, researchers in the pharmaceutical industry may find and validate new cancer medicines. The artificial intelligence systems that use machine learning and other data analytics techniques will extract insights from EMR data and produce the optimal formulas for designing and developing medications that effectively treat malignancies.
4. Research and Development
To streamline the process of medication research, development, and innovation, pharmaceutical firms all over the world are turning to cutting-edge solutions driven by AI and machine learning algorithms. These technological techniques were developed specifically to identify intricate patterns hidden inside massive datasets. Therefore, Applications of AI in pharma business may be used to find solutions to challenges linked with the process of research and development.
This ability to study patterns of various diseases and to determine which composite formulations are best suited for the treatment of specific symptoms of a particular disease is excellent. Additionally, this ability can determine which composite formulations are best suited for the treatment of specific diseases. Research and development of medicines that are more likely to be effective in treating an illness or medical condition may be funded by the pharmaceutical industry.
Bottom Line
There is a lot of potential for the use of artificial intelligence and machine learning in the pharmaceutical sector in the near future. AI prospects for pharma businesses are unmeasurable.
The applications of AI in pharma industry will ensure operational excellence across the design of drug structures, the processes of drug development, the selection of patients for clinical trials, the monitoring of drug performance, the identification of the appropriate dosage, and many other areas.
To Know More About the implementation of AI in the Pharma Industry;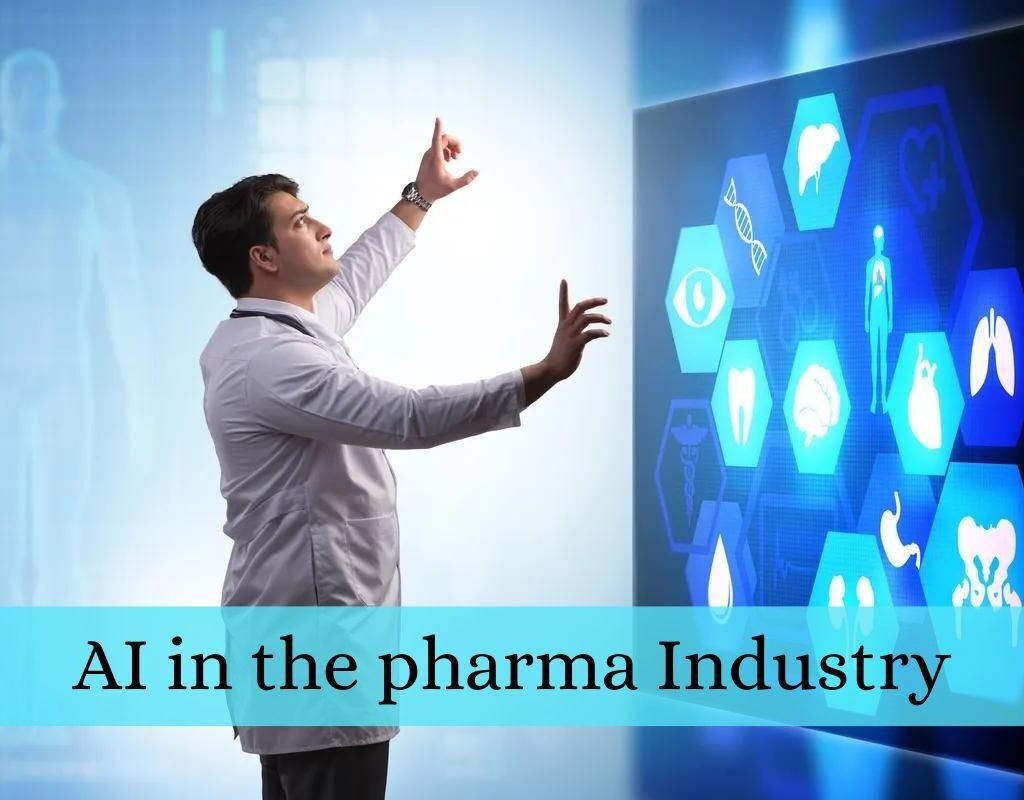 AI in the Pharma Industry
Artificial intelligence (AI) is a nascent technology that is gradually being integrated into several aspects of the pharmaceutical industry, including medication research, diagnostics, and even patient care.