In love with 4×4 vehicles that give an adrenaline rush while driving an all-terrain vehicle? You've reached the right spot. While riding an ATV can be thrilling and enjoyable, it's crucial to prioritize safety to prevent accidents and injuries. Whether you're a beginner or an experienced rider, following essential safety tips for riding an all-terrain vehicle is vital to ensure a safe and enjoyable ATV experience.
Off-roading is a skill for the brave-hearted. A passion for driving on "not-at-all-plain" roads is a skill mastered with practice. Events or competitions are organized where off-road enthusiasts come together with their respective all-terrain vehicles for practice & competing against each other.
However, there are certain safety tips for riding an all-terrain vehicle that you need to follow while sitting on the throne of an all-terrain vehicle. We heard you ask "Why the tips?" 'Coz bro, you've got a family waiting for you, isn't it?
Here are 6 Safety Tips for Riding an All-terrain Vehicle:
1. Enroll for an off-roading course
Become a student before, then be a master. In other words, join a proper certification course. They teach you all aspects of using an all-terrain vehicle and safety tips for riding an all-terrain vehicle. Different terrains demand different techniques of driving. Snow-clad trails, muddy trails, desert trails, etc. need to be handled in a different manner. Each terrain has its own features & characteristics to be followed. Practicing on these terrains with the help of a guide is a life-saver when you are new to the field.
2. Check if weather conditions are favorable
Avoiding going in the rainy season on such adventurous expeditions is one of the most important tips for riding an all-terrain vehicle. It may cost you your life. In the summer season, consult with your instructor about the precautions to take. Turn off the engine for some time in case of overheating, study the weather via the internet before you finalize the destination, and speak with your instructor for any other precautions which need to be taken considering the prevailing weather.
3. Confidence, no overconfidence
Never consider your all-terrain vehicle a toy. After a while when you're able to drive on off-road terrains, a sense of confidence is built inside which tends to transform into over-confidence in no time. Accidents can be too fatal. Always be in a group of 4 to 5 people. You need help while off-road driving as you cannot see all sides of your all-terrain vehicle is tips for riding an all-terrain vehicle. Judgments may go wrong creating fateful accidents. Choose a vehicle that is according to your size. Drive with seatbelts on at all times.
4. Vehicle check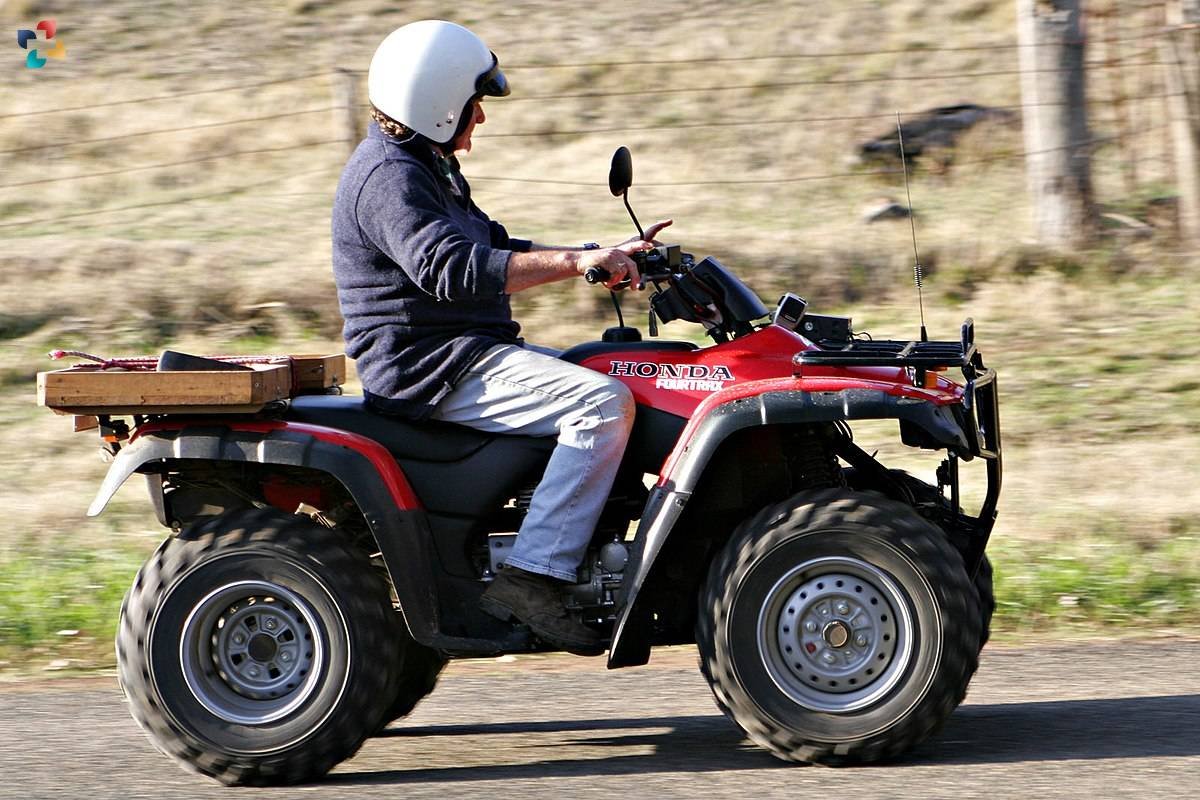 A thorough check of all the fluids in the all-terrain vehicle is important. A spare tire at all times is a must. Confirm the air pressure in your tires. Appropriate tires should be used for the required terrain. Battery function must be up to the mark. Insurance for your vehicle is an add-on for you in case it covers damages. Have your car neatly cleaned before and after your adventurous ride. Insurance for your vehicle is one of the focused points in the list of tips for riding an all-terrain vehicle.
5. Off-roading gear
Tips for riding an all-terrain vehicle, Full sleeves shirt and full-length trouser is a must while going for your off-roading adventure. Thick jackets, helmets, wire ropes, over-the-ankle boots, and gloves are some other essentials that are necessary. For eye protection, choose your goggles accordingly. Choose a seat that you're comfortable in. Only have one passenger seat next to you.
Have a passenger seat next to your driving seat as going alone for off-roading isn't advised. Excessive passengers are not recommended as you may put lives at risk. The weight of the passengers should be balanced on both the front sides of the car. Hence a driver with a co-passenger is recommended.
6. Correct braking
Light braking on slippery roads, no unwanted braking while cornering. Learn the skill of 4-wheels high and 4-wheel low. Get acquainted with the use of it. Depending on the terrain, make use of the off-road gear system. Make use of the brakes according to the terrain you are driving on. Intensive braking will make your car skid off-track due to mud. More fuel consumption will also happen as you will use more acceleration due to more braking. Learn the tact of proper braking.
7. How to select an all-terrain vehicle for yourself?
The basic thing is to choose a vehicle that fits your size. Selecting enormous vehicles or too small ones can be an issue. A variety of different vehicles and of different sizes are available in the market. Big-sized vehicles surely look attractive but are heavy too. They can topple off a terrain when on an off-road adventure. So, be careful when selecting a vehicle.
Here are some more points to keep in mind:
1. Keep your needs in mind:
Make a study of your own wants and needs. Visit some dealers who specialize in selling all-terrain vehicles. Try riding some of them to analyze your comfort. If you plan for family rides too, customize it accordingly for elder people and children. Rear seats also should have enough safety measures to avoid any fatal damage.
2. Variants:
Whether petrol, diesel, electric or hybrid. Which is your choice? It's an important decision. This decision must be taken on the amount of off-roading you're going to do. You should analyze the maintenance and repair costs properly in order to take this decision. Consult someone who already uses such a vehicle.
3. Transmission:
Manual transmission or automatic is also an important decision. Manual cars give you more control over the car. Automatic cars are a lot more hassle-free when driving in heavy traffic situations. Manuals are cost-effective while automatic cars are a bit expensive. Manual cars also offer better fuel efficiency than automatic cars. Major aspects to consider are fuel efficiency, maintenance costs, and comfort in the driving aspect.
4. Check while purchasing:
Whether new or second-hand, give a thorough check for leakages or any scratches, dust, or dents in the car. In exceptional cases, chances of some type of damage in the vehicle already exist at the time of purchase itself. Once sold, the company cannot be blamed. You will have to do it at your own expense. If buying a second-hand car, ensure of any cuts, scratches, etc. under the car. It's highly possible to find some damages when opting for a second-hand car.
Conclusion:
The bottom line is owning an all-terrain vehicle is a responsibility. The passion you carry for the car, and the zeal you possess for off-roading is a thing only enthusiasts like us will get. There's a thrill attached to it, but with taking proper measures for the same.
Remember, safety should always be the top priority when riding an ATV. By following these essential safety tips for riding an all-terrain vehicle, you can minimize the risk of accidents and injuries, allowing you to enjoy the thrill of off-road riding responsibly and safely.
Also Read: How to safely walk across patches of Ice?