A shower chair or a bath chair is a well-thought-out chair for adults who have an issue maintaining balance. There can be limb defects in older adults which will disable their balancing abilities. So, picking the best shower chair comes into the picture. It will make their bathing hassle-free and give them comfort too.
However, picking the best shower chair avoids accidents or falls in the bathroom. Another advantage is that it will make your loved one feel independent. Bathing is not only about being clean. Studies have proved that bathing relieves stress and relaxes the mind. It is also a comfier space you need to be in when you're bathing. So in the case of your loved ones picking the best shower chair can be a bit tough if you're not so well-versed in bathroom safety.
Here Are 5 Points to Consider Before Picking the Best Shower Chair:
1. Weight-bearing capacity:
This is the most important point to keep in mind when you are picking the best shower chair. There are various models available which hold various weights. If chances are you need a more weight-bearing capacity chair, consider opting for a bariatric shower chair.
2. Height adjusting feature:
Most chairs should come with legs that are adjustable for height. When picking the best shower chair, along with weight bearing, height adjustments are also a basic thing that you should consider.
3. Chair structure:
By chair structures we mean stools or chairs. When picking the best shower chair, opting for a stool or a chair should be well-thought. Stools are narrow and compact. They also don't have the backrests. Stools or chairs need to be decided well in advance before making the buying decision.
4. Seat dimensions:
When picking the best shower chair the dimensions or size of the seat is an important decision to consider. The seat must be big enough for the user to fit in and have some extra room to move when seated. The size of the user and the size of the seat must be in proportion. If needed you can also measure the buttocks size of the user on a flat surface and use that as a measure while picking the best shower chair.
5. Manufacturing materials used: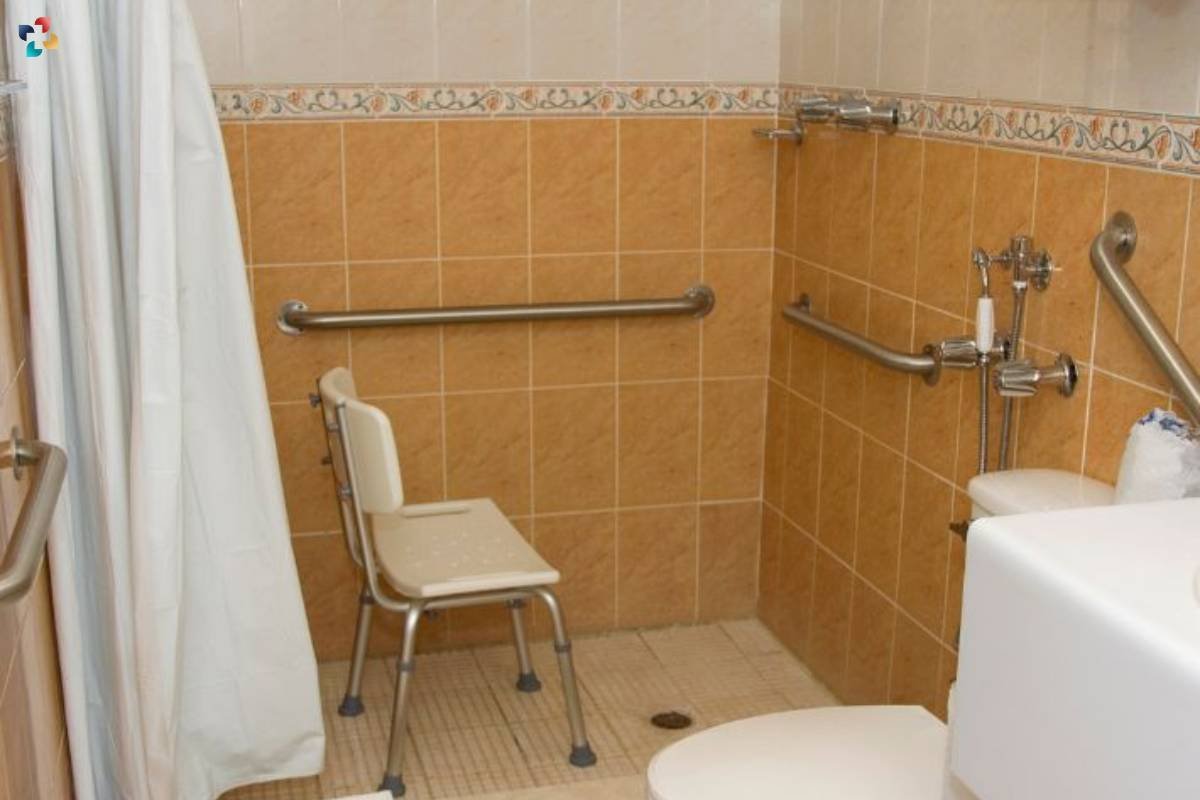 While picking the best shower chair, the material must be ensured to be rust-free. It should be of plastic or aluminium. Most of these chairs are a combination of plastic and aluminium. Plastic gives comfort while aluminium gives a no-rust title to the chair. If rust occurs when other materials are used, it may be harmful to the user. He may get hurt due to the rust on the chair.
Types of Shower Chairs:
1. Bariatric shower chair:
These have a high weight-bearing capacity. People who weigh around 120 to 130 kg are best suited for them. These are more durable, sturdy and tough as they are to bear more weight than normal. Occupational therapists especially recommend these shower chairs as they are best suited.
2. Standard shower chair:
These are very normal shower chairs with rubbers fitted below the legs of the chair. It has a wide seat, provides good support and is sturdy enough. It may lack features like height adjusting, but if it is suited for the user there's no need for buying the same. Not every user will need the height-adjusting feature.
3. Folding shower stool:
These are stools which have four legs with rubber fitted at the surfaces below. They do not have any armrests or back supports. These are for people who can normally mobile and have no major faults in the limbs. They just need a little support or comfort while bathing. This one is perfect for such people.
4. Shower chairs with wheels:
As the name suggests, they have wheels for easy mobility of the user. These are very similar to the standard shower chair. The wheels can be locked as and when required. It ensures the wheels don't move when someone is using them. The users who use them need to be careful on wet surfaces though!
5. Transfer bench:
These shower chairs are for people with acute disabilities. These are extra-long shower chairs. The two legs are situated inside the tub or shower while the other two are outside which helps immensely as a support. It is an excellent feature to enter or exit the shower for major defective people.
Benefits:
1. Lesser risk of falling:
These chairs provide the comfort of being seated when bathing. The bathroom tiles of course get wet when we have a bath. It saves the user from slipping and falling. When seated at a height, you can easily access the hard-to-reach places in the bathroom like the soap cases or other cabinets made for storing shampoo or moisturiser bottles.
2. Comfort:
Comfort is one of the best things that can be provided to a person with an ailment when he/she has to shower. Showering can be uncomfortable when if you have reduced strength or durability.
3. Independence:
Shower chairs mostly provide independence. Being able to have a shower without anybody's help is a big thing for a person with a disability. There's no need for someone to be with the user inside to keep a watch. As he's seated in a place, there's very less or no chance of him falling.
Conclusion:
Shower chairs are the best thing for people who love independence. You can use these for people who have less strength in their lower limbs, reduced mobility and no stability. Having a shower offers a relaxed feel and makes a person stress-free. Shower chairs also help in maintaining hygiene. The most important thing is to consider the user and his needs. Will a normal stool help or should a proper chair be bought with an arm and backrest? It depends on how many issues the user is going through. Medical experts would be the best people to help with the buying decision. It can also be bought keeping long-term needs in mind.